GetAbstract.com is an online platform that offers concise summaries of non-fiction books, articles, and videos across various subjects. It helps individuals quickly grasp key insights and ideas from a wide range of content, catering to professionals, entrepreneurs, and lifelong learners. By condensing complex information, GetAbstract.com enables users to access valuable ideas without reading or watching the full content.
In this case study, Marco Grueter, the Chief Product Officer of getAbstract Corporate+, shares his experience and insights.
2. Challenge
Marco faced the daunting task of managing a simultaneous recruiting round for four different profiles. With no background in HR and lacking specialized recruiting support within his company, he recognized the immense time and effort required to successfully fill just one position. Balancing this significant workload alongside his other responsibilities was a tough challenge. To complicate matters further, GetAbstract needed an HR admin tool to provide essential support for the recruiting rounds, as they were relying on cumbersome methods like Excel, cloud storage, and email.
During this challenging period, Marco received numerous offers from headhunting companies and outbound recruiting tech platforms. However, their high prices and the importance placed on recruiting made him hesitant to fully or partially delegate the process. Marco understood the pivotal role that the right people play in an organization's success, so retaining control over the hiring process was crucial.
3.Solution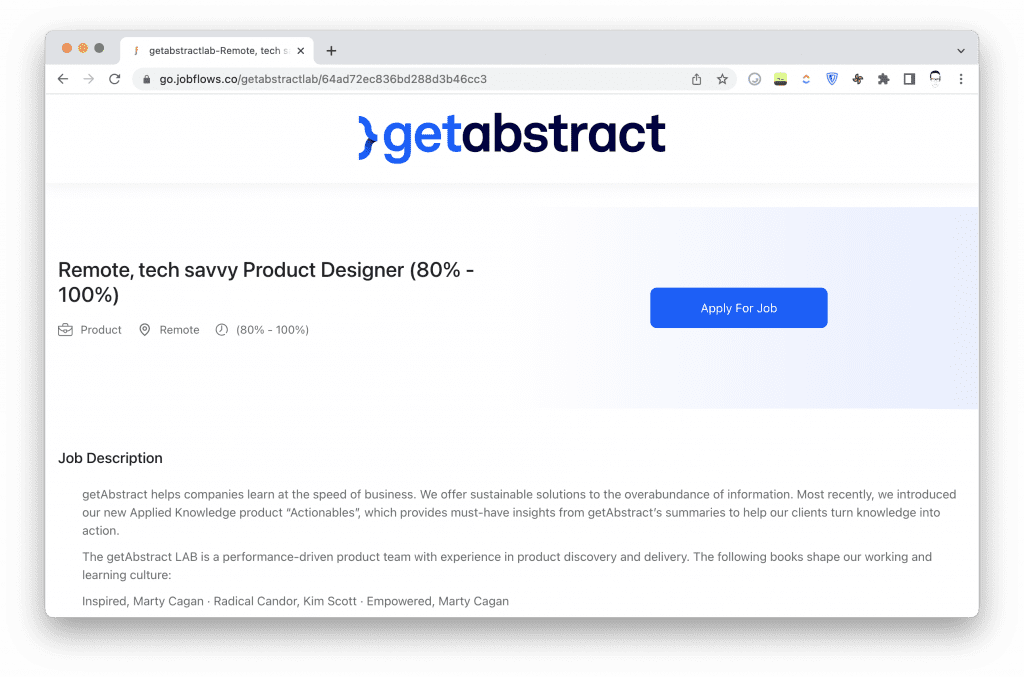 Marco's journey with Jobflows was nothing short of exceptional. Thanks to the app's intuitive interface and powerful functionalities, GetAbstract successfully completed their latest recruiting challenge within the allotted time. The impact was tangible, with their HR department praising the streamlined approach to the recruiting round. The satisfaction with Jobflows was so high that even after concluding the hiring process, the HR department expressed interest in integrating Jobflows into their workflows. Marco willingly helped set up the app within their Monday.com environment, recognizing its potential for widespread usage within the company.
While Marco's overall experience with the app was overwhelmingly positive, he encountered a few minor hurdles during installation. However, the availability of Jobflows' informative tutorials empowered him to independently set up the app without needing additional assistance. Additionally, he found that the pre-installed automation features needed to be more extensive for their specific needs. He deactivated most of them to ensure seamless information management within their groups. On a positive note, customizing and implementing their own automation proved remarkably straightforward. Despite these minor challenges, Jobflows proved invaluable, providing tremendous support throughout the recruiting process and justifying the investment made.
4. Result
In conclusion, Jobflows emerged as a game-changer, revolutionizing GetAbstract's recruiting processes and reducing the workload associated with hiring. Its user-friendly interface, efficient functionalities, and the ability to customize automation to their requirements made it an indispensable tool. Marco wholeheartedly recommends Jobflows to organizations seeking to optimize their recruitment endeavors and ensure they have the right talent to drive their success.