Dive into VLookup 2.0!
Are you on the lookout for ways to optimize your workflow and minimize errors on Monday.com OS? Your quest ends with VLookup. This innovative app seamlessly automates board column connections, ensuring your data flows without hitches or glitches, all while putting human errors in the rearview.
Jump right in with our risk-free trial. For those who are averse to time-limited experiences, our free version promises indefinite companionship. Before you embark on this automation journey, let our initial setup guide be your compass, directing you through every step of the setup process with precision.
A Quick Glimpse
Think of VLookup as the evolved, more advanced cousin of Monday.com's board connectors. What sets it apart? It's an automation wizard that auto-links across diverse boards, seamlessly syncs board items, and still upholds its powerful reporting and automation prowess.
If you're aiming for pristine cross-board data harmony and wish to evade the pitfalls of manual item linking, VLookup is your go-to.
Flexible Pricing Tiers
With the diversity of board linking needs, one size doesn't fit all. Acknowledging this, VLookup presents an array of subscription tiers, each catering to distinct requirements and budget brackets.
Kick off your journey on a free note, leveraging one board, a unique recipe, and two auto-links. And when you're set to delve deeper, our premium plans await, commencing at a mere $35/month.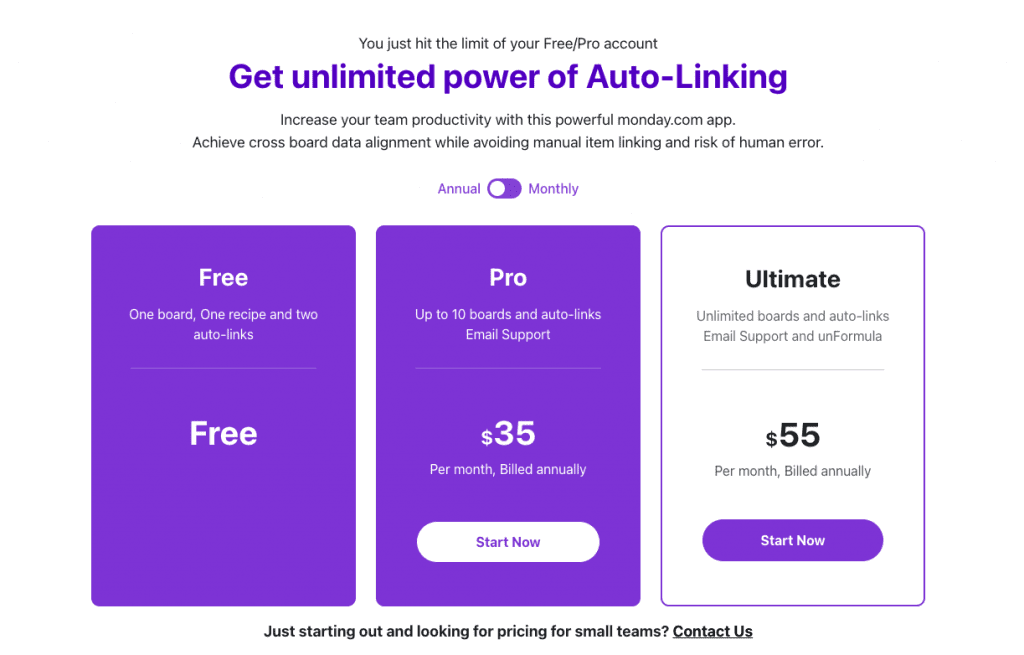 Gear Up for Seamless Automation
No matter if you're a seasoned Monday pro or just getting your feet wet, initiating your VLookup journey requires a proper setup. Delve into our detailed setup article, grasp the nuances of column connections, and get acquainted with the magic of action triggers.
With these tools in hand, you'll be poised to turbocharge your automation game, propelling team productivity to new heights. Ready to transform your workflow?
VLookup is your trusted ally.